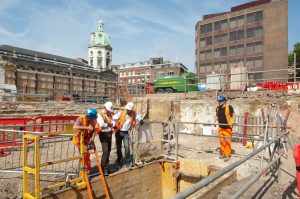 Introduction 
Crossrail's archaeology programme has produced an extensive 'grey literature' library (grey literature is the term for content produced in the course of research which does not form part of the eventual published academic papers). This consists of built heritage and archaeology fieldwork reports, desk-based assessments, and Written Schemes of Investigation (WSIs).
This archive provides public access to these resources. Copies shall also be included in the full fieldwork archives that are provided to the London Archaeological Archive and Research Centre (LAARC) for works in London and other local authority Historic Environment Records (HER) for works that were undertaken outside Greater London.
Archive items deposited with the LAARC or HERs shall also include the primary fieldwork records and digital components such as CAD, GIS, and database files, photographs and other primary research materials.
Organisation
The archive is organised as a series of geographic datasets that contain documents related to a specific location. Dates attributed to each document are the date of the latest accepted version and may not reflect the date the document was first produced or the year in which the actual work was undertaken.
Scope
The current (2016) content is limited to works undertaken in the Crossrail Central Section (Old Oak Common to Stratford and Plumstead). Further reports that have been produced for the outer sections of the Crossrail Route shall be made available in due course.