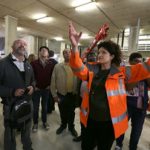 The aim of Community Relations activity for Crossrail is to establish and maintain an outstanding reputation with local authorities, neighbouring residents and businesses and other local stakeholders to enable the successful delivery of Crossrail.
The Crossrail Act 2008 established the formal standards that the construction process must stick to. These are explained in Crossrail's Environmental Minimum Requirements and the Construction Code.
At every site Crossrail liaises closely with local authorities, local representatives and other interested groups to manage and minimise the effects of construction.
Contractors employ community relations representatives who distribute information about the works and provide a first contact for local communities.
The Crossrail Limited Community Relations department consists of Area Community Relations Managers and officers and the Crossrail Helpdesk which is available 24 hours a day, 7 days a week to provide answers to questions and act on complaints from members of the public. They work alongside contractors to speedily resolve any problems that might occur.
This topic area includes content giving examples of how communication with communities has been established and ensured to be effective.