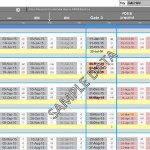 Working as part of the integrated Crossrail team the IT Directorate are responsible for the delivery and support for the desktop, mobile technology, IT applications, systems and infrastructure required to deliver the programme. Supporting over 2,000 users, 250 servers, 154 applications and responsible for Information Management within Crossrail.
It includes:
Providing desktop PCs, printing and mobile devices for the Integrated Crossrail Team
Providing helpdesk and desk-side support for end users
Monitoring and managing Crossrail's network, servers and systems
Specification and selection of business systems
Application development and support
Business analysis and process improvement
The IT Learning Legacy papers cover a range of topics such as data architecture, Project Management Office (PMO) setup and mobile device management. All the papers provide an outline of how Crossrail has addressed specific challenges, the types of solutions adopted to address these challenges and the lessons learnt from the solutions adopted. These papers could assist other major projects as a starting point as they embark on their own IT journey by highlighting the critical thinking behind the decisions made.