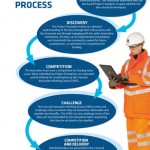 The Innovate18 programme was a partnership between Crossrail and the Tier 1 contractors, co-ordinated and managed by a small team within Crossrail Ltd.
The establishment and implementation of Innovate18 is set out in a micro-report which contains many of the documents, processes and resources that were used. A report done in conjunction with Imperial College Business School evaluated the benefits of the innovation programme.
We have also shared the source code for the Innovation Management system.
There is also an article setting out our experiences, which was first published in the Proceedings of the Institution of Civil Engineers.