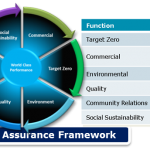 A key challenge for Crossrail and its stakeholders was to create a mechanism for assuring that Tier 1 contractors were collectively performing at a level that would enable the programme's objectives to be met – safely delivering a world-class railway on time, within funding, setting new standards for major project delivery and leaving a legacy of improved supply-chain performance within the UK infrastructure sector. There was a desire to operate a lean client team and also a recognition that Crossrail had to enable the supply chain to perform if they were to be successful in achieving the programmes desired outcomes.
A Performance Assurance Framework was developed to measure performance, drive collaboration and share knowledge. The framework covers six key delivery functions:
Commercial;
Health & Safety;
Quality (including technical compliance);
Environment;
Community Relations; and
Social Sustainability.
The Performance Assurance Framework has supported a 54% increase in performance improvement. A learning legacy paper on the Performance Assurance Framework outlines the approach taken, including the use of 'lead' and 'lag' indicators to highlight performance improvement actions, as well as the results delivered to date and lessons learned in establishing the process. A future learning legacy paper will provide a reflective review of performance assurance, which will be at the completion of the programme.
Results from the Performance Assurance Framework are one of the inputs used to prioritise the annual audit plans. Other inputs include the risk registers, experience from previous audits and discussions with the Crossrail senior management team and project managers.
Crossrail's approach to audit is set out in the Audit Strategy. The Audit Procedure sets out how Crossrail's audit team implements Compliance audits and Contractor audits.
A public sector funded major project such as Crossrail needs to provide assurance to many bodies in relation to governance and the effectiveness of delivery. A Crossrail Integrated Assurance Group (CIAG) was set up to share assurance information with a view to reducing overall assurance intrusion from these different bodies, whilst delivering effective assurance.  A review of the effectiveness of this group will be captured in a future learning legacy paper.
Crossrail has taken a proactive approach to fraud risk. A Fraud Risk Assurance Group (FRAG) was established to help raise awareness of the fraud risk across the Programme. It met for two years, and has been instigative in raising fraud awareness, not only within Crossrail, but also its Tier 1 contractors.