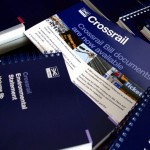 Crossrail is the largest single addition to the London transport network for over 50 years. It is a complex programme of interrelated projects and works that need to be integrated to create the new rail service. Crossrail Ltd (CRL) is responsible for development and delivery of the new infrastructure, in accordance with the requirements of the Sponsors, up to the point at which it is accepted by the long-term operators of the infrastructure.
The scope of Crossrail is derived from the requirements defined in the following documents:
Crossrail Act 2008 and associated commitments including the Environmental Minimum Requirements and the Undertakings and Assurances;
Crossrail Project Development Agreement and associated Sponsors Requirements;
Crossrail Programme Functional Requirements (CRL's detailed interpretation of the Sponsors Requirements); and
Other agreements and commitments (eg, with industry partners such as Network Rail, London Underground, Berkeley Homes, Canary Wharf Group, etc)
Crossrail developed a Delivery Strategy which defines how CRL is delivering Crossrail. It is intended to provide a common purpose and clear direction for everyone and every organisation, particularly CRL's staff and its partners, involved in the delivery of Crossrail and formed the basis for development of systems and procedures that would control the project.
The delivery model implemented by CRL and its supply chain was driven by a number of key inputs, including establishing clear accountabilities and authorities, maintaining a commitment to responsible procurement, understanding the industry's supply chain capacity and traversing the long geographical footprint of the scheme. The basic architecture of that model, which identified a programme management organisation responsible for:
delivery of both the central operating section and on-network works;
an operations organisation responsible for those activities required for a staged opening of services;
a finance and commercial organisation that allowed Crossrail Ltd. to operate as a company and support delivery of the programme.
Within that model, however, the organisational structure changed and evolved over time from its initial procurement of design and construction contracts through major tunnelling and into fit-out, testing, commissioning and handover of the assured railway.
A learning legacy paper on the Delivery Organisation Evolution reviews the delivery model for the project and how the organisation evolved during the construction phase. It identifies the key benefits and lessons learned by Crossrail and how it might influence future major infrastructure projects in developing an organisational structure best suited to address the particular driving factors over the life of the project.
Crossrail identified logistics early on as a key priority and that it should be proactively managed such that the impacts outside the hoarding were treated with the same significance as those inside, requiring individual contractors to incorporate logistics practices into their normal working day. The learning legacy paper on Logistics provides an overview of the principles of Crossrail's logistics strategy and how it was implemented, identifying the key challenges, lessons learned and how it continues to influence other projects and stakeholders.