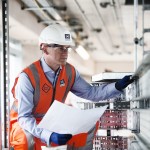 The Programme Controls Team set out to develop a world-class controls function which, through robust reporting and sound programme management protocols, would support the Crossrail programme to deliver the works safely and to time, specification and cost. To this end, the Controls function was built on four key principles. These were to:
Set the standards: Provide the definition of processes and procedures to be adhered to throughout the programme;
Provide integrated information: Provide decision makers and members of the Executive, the Board and the Sponsors with reliable and timely information on the current and projected status of the programme;
Bring foresight and advice: Provide programme level analysis and insight based on interpreting project level data; and
Provide assurance: Support the management and control of the delivery costs, schedule and performance objectives for the whole programme to minimise risk of failure.
Through the delivery of the core base services of planning, cost management, risk management, programme change management and reporting, the ambition has been met, and continues to evolve as Crossrail heads into the final delivery phase. These learning legacy pages seek to share the processes, systems and some templates with the direct intention of helping others establish an approach that delivers effective but efficient programme controls. Below are some of the key lessons that have been learned to date, including:
Obtaining agreement on the work breakdown structure and implementing it with zero tolerance;
The use of Primavera P6 for planning and nothing else;
Keeping the Controls community out of too much detail;
Starting formal programme performance reviews early;
Produce the best management reports you can;
Reinforcing the culture to build confidence.
Crossrail benefited from the lessons of the London 2012 Olympic and Paralympic Games. Through shared information, Crossrail has maintained simplicity at the heart of its approach. Examples such as the Planning and Scheduling Handbook and the industry leading approach to Performance Management, the use of Earned Value and, later on, Earned Schedule, are all areas of relevance to future projects and programmes.
Crossrail Head of Programme Controls, Richard Palczynski explains Crossrail's approach to programme controls in this webinar: