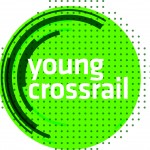 Changing perceptions of engineering and construction careers has been central to the establishment of the Young Crossrail Programme. Young Crossrail was established in 2013 in response to the Crossrail Skills and Employment Strategy. The programme works with schools across London (and further afield where resources allow) to build sustainable relationships for delivery of a targeted programme to raise awareness of careers in the construction and engineering sectors.
As of August 2016, the programme had worked with over 270 schools, colleges and universities and engaged with over 44,000 young people, teachers and parents. Critical to Young Crossrail's success is the more than 4,000 volunteer hours which have been given by Young Crossrail ambassadors to deliver engagement activities. A learning legacy paper on the Young Crossrail Programme reviews Crossrail's approach to establishing an effective youth engagement programme.
The Young Crossrail Programme focuses on driving the take-up of science, technology, engineering and mathematics (STEM) subjects at school to encourage young people, and in particular girls, to consider careers in engineering and construction. The Young Crossrail programme developed STEM linked resources for Young Crossrail ambassadors, contractors and teachers to deliver to young people. This approach allows for effective engagement between industry, STEM educators and  students.
Crossrail's corporate work experience programme formed part of the Young Crossrail programme. The work experience programme allowed students from partner schools to undertake a meaningful work placement of up to two weeks within Crossrail. A learning legacy paper on the Corporate Work Experience Programme reviews Crossrail's approach of establishing and delivering a work experience programme for 16-19 year olds.